Download the latest version of Avira Free Antivirus 2015 with just one click, without registration. It is a standalone setup package that contains the full offline installer for Avira Free Antivirus.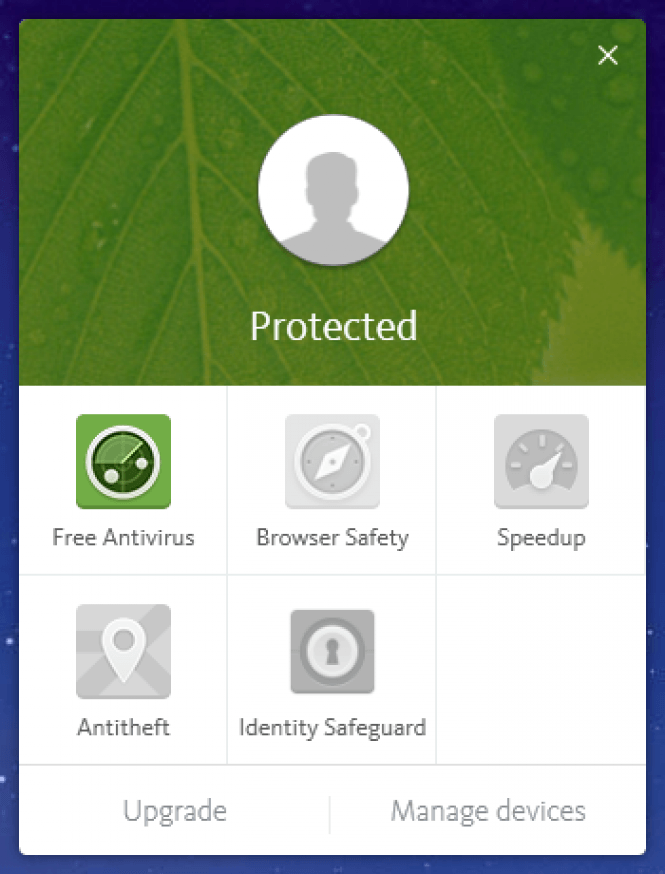 Avira Free Antivirus 2015 Download
Overview and Screenshots
Nowadays every user has a protection program installed on his/her computer. Even if they didn't download it manually, the OS developers had taken care of it instead. But there is a chance that this default program will not notice all the risks. If you type the 'antivirus' query in the search line, there will be millions of links to popular programs. I would advise you to pitch upon the updated award-winning Avira Free Antivirus 2015.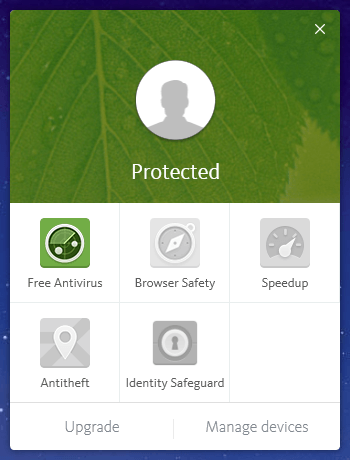 Main menu
The main purpose of this famous antivirus software is to protect your PC from harmful Internet malware (like viruses, trojans, spyware, etc.) and help you feel safe. The scanning process for more than 150,000 viruses is implemented in a real-time mode. Avira detects viruses, notifies you about the results, and lets you exclude particular programs from the scanning list via previously set rules. Its comprehensive protection and cloud-based scanning engine ensure your privacy. The scanning process is provided on a high speed.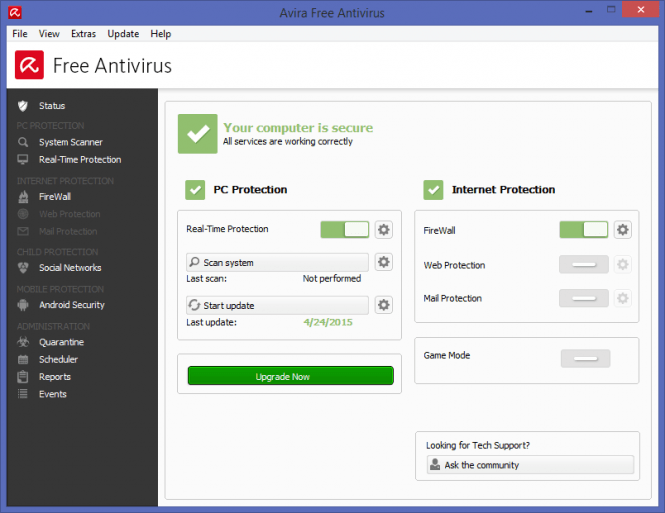 Avira Free Antivirus Status Page
The latest Avira Free Antivirus 2015 update brings several integrated updates. One of them is a SocialShield service that provides a parental control. Now parents have a great opportunity to monitor their kids activity on Facebook or Google+ for example, and keep being informed on the potential risks. One more non-typical novelty is Avira Free Android Security – the app to protect gadgets running on Android OS. The Game Mode will awake the interest of gamers since it optimizes resource consumption while you are enjoying the game process.
Avira free antivirus scan log
One thing that is not very clear to me is a minimally updated interface design. I suppose it might be their company policy to be devoted to an already developed structure. This antivirus scanning engine with minimal resource consumption is still number one even for older PC users. This is a great reliable program that comes without a price tag.
Key Features
Scanning engine for 150,000 viruses
PC protection
SocialShield for parental control
Avira Free Android Security
Optimized resource consumption for old computers and game process
Specifications
Software full name:

Avira Free Antivirus

Developer:

Avira Operations GmbH & Co. KG

Licence type: Freeware
Setup filename: avira_antivirus_en-us.exe
File size:

198 MB

Type: Safe official installer (web)
Limits: This program is totally free and has no limitations.
Version:

2015
Supported Operating Systems
Windows XP SP3 (32-bit)
Windows XP SP2 (64-bit)
Microsoft Windows 7 (32-bit or 64-bit)
Microsoft Windows 8/8.1 (32-bit or 64-bit)
Microsoft Windows 10 (32-bit or 64-bit)
Avira Free Antivirus 2015 Download
All downloads were checked for viruses and are completely safe.
See also